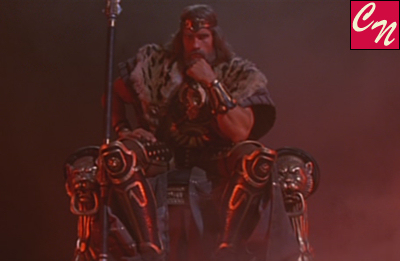 Addio
King Conan
!
Tramonta definitivamente la possibilità di vedere sul grande schermo
King Conan
con
Arnold Schwarzenegger
, film annunciato fin dal 1981 dai titoli di coda del leggendario capolavoro
Conan il Barbaro - Conan the Barbarian
diretto da John Milius e scritto da John Milius e Oliver Stone.
Il Merchandising legato alla figura del mitico conquistatore
Conan
creato da
Robert E. Howard
ha goduto negli ultimi anni di rinnovato interesse e di un ricco rilancio del personaggio, dai videogames di ultima generazione a Statue, Busti ed Action Figures, imminente è ad esempio l'uscita di una nuova linea firmata Sideshow Collectibles.
Dopo circa un decennio di investimenti e sforzi creativi da parte della Warner Bros che tuttavia non hanno portato alla realizzazione di alcun film, durante i quali la prestigiosa Casa di Produzione si è rivolta prima a
John Milius
e al ritorno di
Arnold Schwarzenegger
per la realizzazione di
King Conan: Crown of Iron
, poi ai fratelli
Larry e Andy Wachowski
ed infine a Robert Rodriguez e Boaz Yakin, la
Paradox Entertainment
ha rifiutato di rinnovare l'opzione per i diritti cinematografici alla WB per venderli alla
Millennium Films
.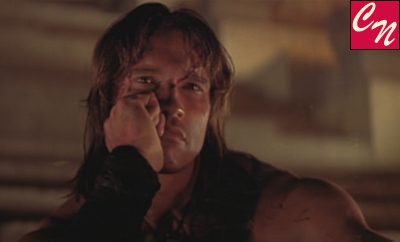 La
Paradox Entertainment
, frustrata per l'estenuante attesa, preme per la realizzazione di un nuovo film che possa rilanciare definitivamente il mito di
Conan il Barbaro
e la
Millennium Films
ha assicurato che la produzione del primo film della nuova saga di
Conan The Barbarian
inizierà nella Primavera del 2008.
Paradox Entertainment
e
Millennium Films
hanno dichiarato che la nuova saga cinematografica sarà maggiormente fedele al personaggio creato da da
Robert E. Howard
.
Tuttavia sarà difficile eguagliare la pietra miliare firmata da John Milius ed interpretata da
Arnold Schwarzenegger
, considerando inoltre che i lavori per la nuova pellicola dovranno ricominciare da zero, a partire dalla sceneggiatura.